New York Yankees fans were stunned and outraged when Aaron Judge received just two first place votes for the American League Most Valuable Player Award.
Houston Astros second baseman Jose Altuve, who received the remaining 28 first place votes, won the award in a landslide.
Rather than sharing in his fans' anger, Judge immediately took to Instagram to congratulate and applaud the new MVP.
If you don't know the kind of person Aaron Judge is, that Instagram post says it all. He is genuinely happy and excited for Altuve, even though his Astros had sent Judge's Yankees home in Game 7 of the ALCS just a few weeks ago. He even goes as far as telling Altuve there's "Nobody more deserving than you!!"
Nobody more deserving? Probably. But as deserving? I have someone in mind…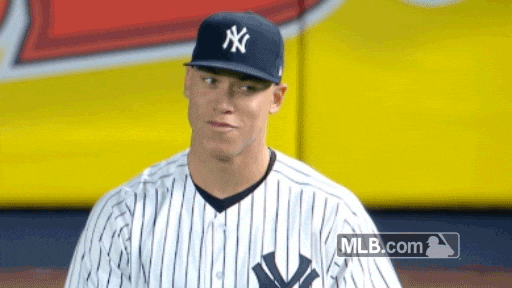 I know, the MVP discussion is over. Altuve won, and decisively so. But that shouldn't take away from the remarkable, transformative season Judge had.
When Judge reported to spring training in February, few expected him to do much this season, if anything. Despite being 25, Judge had just 84 big league at-bats under his belt, and had struck out in exactly half of them. No one was expecting him to hit .300 in the big leagues, but could he even hit .200? It was a serious question as 2017 began.
In fact, Judge was very close to starting the season in Triple-A. Both he and Aaron Hicks played pretty well in spring training, and according to then-manager Joe Girardi, it was a "tough" decision. But in the end, Judge was named the starting right fielder.
The Yankees looked like geniuses early on, as Judge hit .303/.411/.740 with 10 home runs in the first month of the season. He single-handedly carried the Yankees offense, as Gary Sanchez and Didi Gregorius were both sidelined due to injury, and Greg Bird was in an awful slump. Not only was he getting the job done at the plate, but he was making incredible plays in the outfield, saving the Yankees runs game after game.
His impressive start to the year continued into May, and Judge was becoming less of a player and more of a phenomenon. Thousands of Yankees fans began sporting number 99 jerseys, he made the cover of Sports Illustrated, and, most impressively, had a section of seats in Yankee Stadium named in his honor.
And yet, none of it seemed to phase him. Judge remained humble, stayed out of the tabloids, and never patted himself on the back. Rather, he'd compliment his teammates at every turn, and stressed the importance of wins over personal accolades.
At the end of the first half, Judge was hitting .329/.448/.691 with 30 home runs and 66 RBI. He was a shoe-in for the All-Star Game, but he achieved baseball superstardom the night before, when he won the Home Run Derby by hitting nearly four miles worth of home runs.
He struggled mightily – and likely lost the MVP – in July and August, as he reportedly played with a banged up shoulder and struck out in 37 consecutive games, breaking an MLB record. He looked absolutely lost at the plate, and many wondered if the Summer of Judge was just a fluke.
As we all know, it wasn't.
Judge had a revival of sorts in September, hitting .311/.463/.889 with 15 home runs in 32 RBI. At the very end of the season, he set another MLB record, but a positive one – most home runs in a season by a rookie.
Judge's final stat line for 2017 reads like this: .284/.422/.627, 52 home runs, 114 RBI, and 128 runs scored. Yes, he did strike out 208 times, but he also walked 127 times, an indicator of his fantastic plate discipline.
As we all know, the 6'7" California native finished second in the MVP voting, and took home a Silver Slugger Award and the American League Rookie of the Year Award. He'll also be on the cover of next year's video game, MLB The Show 18. Oh, and the Judge's Chambers aren't going anywhere.
Not too shabby for a guy who had to fight for a spot in the big leagues just a few months ago. Hats off to you, Aaron Judge. Or, should I say, "All Rise".